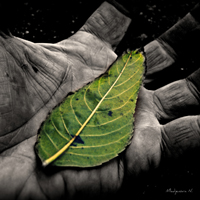 Recently Valery North paid me the gigantic compliment of a critical response to my blog post about submissive strength.
I came away wondering if I had contradicted myself. But dammit, I know everything I said was true!
And then. I realised. These apparent contradictions, they're actually koans! That's Zen Buddhist for paradoxes which help us to see a Higher Truth.
Ahem. OHM.
Koan 1: On Control
I said that I don't want to feel in control of what happens. But I also said that I should have control over my emotions.
This paradox has an easy copout: we could just say that the boundary between the dom's control and mine is my skull. But that's simply not true – the wonderful thing about submitting is letting go and experiencing instead of making decisions and overthinking them. And in my case, I don't just want the dom to be in charge of my emotions, I also want him to play with them sadistically.
But I think there is a way to resolve the apparent contradiction. You know how when something is too heavy, you can't put it down smoothly and gently? Because you're not really in control, you can't hand it over in a controlled way. I think that's what I want to be able to do with my emotions. I want to hold myself open to everything I want to experience. Everything the dom wants me to experience.
Ferns and I have been talking about the courage to be emotionally vulnerable. A lot of it depends on whether the dom inspires trust, but there's also a big component of confidence in yourself – believing that you can take what the dom throws at you without throwing up your shields, not being afraid that you'll hate yourself for turning into a puddle. That's the kind of strength and control I want as a sub: the power to refrain from defending myself.
Koan 2: On Vulnerability
I've written about resolving not to rely on the dom for approval or forgiveness or happiness. But I've also written repeatedly that my kink is about desperately wanting to please the dom.
So do I want emotional independence or not?
Here I wasn't thinking of play, but rather the day-to-day relationship. You'll have to forgive me for not describing just how dependent and hurt and defensive and angry I got in my previous relationship, but if I had then maybe you would agree that I had to move away from 100% non-consensual dependence ALL THE TIME. I am the definition of high-maintenance. What I want is the ability to say, "He's ignoring me right now, but that's okay." Joshua Tenpenny recently gave a talk where he said his master had worked to make him less emotionally vulnerable to him, and he had welcomed that because while it felt "very amazing" to be so vulnerable all the time at the beginning, it had also been "chafing". YES. But it's easier to motivate myself to change if I think of it as irritating to the dom.
Or, to put it positively, it's also about making them feel loved. When you're trying to be totally transparent about your needs and wants, that's good up to a point – but if you're relying on the dom to fulfil all those wants, there comes a time when it's indistinguishable from selfishness. Ferns has described this from the dom's point of view, and I think she's put her finger on how I have screwed up in the past. You need reserves of strength and security, or you become the weak link in the relationship. I'm not saying there are no limits, but there must be a buffer zone of give and take. Some of it has to come from us subs some of the time.
And again, I think this is about trust as well as confidence, the dom's worthiness as well as the sub's strength. To be emotionally vulnerable in a real relationship, you have to be willing and able to accept hurt, knowing that neither of you will let it go too far.
I am so not there yet. But I don't think it's something I have to learn alone.
Thank you so much to Valery North, Joshua Tenpenny and Ferns for making me think!