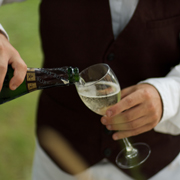 When I first found out about service subs, I was politely un­compre­hend­ing. No sex, no sensation, no humiliation even, why bother? Surely it would be less trouble to go to a nice restaurant and get served/hired? More authentic, too.
Over time my confusion changed into awe and guilt. Probably because I tried to convert a vanilla partner, and that forced me to confront a lot of hard truths about my kink. I really didn't want my body worshipped with gentle caresses even if that made him happy. Heck, I didn't even want to do the dishes.
And there are subs out there who pay for the privilege of cleaning your house? Who don't function well with excessive praise?
Um. Not me. You want to know what I'm like?
'Good domming' can be cynically defined as figuring out what your bottom wants, then convincing them that they are only doing it to please you. – IPCookieMonster's FetLife profile
That's me. I am ashamed to admit it. But I want what I want, dammit!
And if you want something else … ouch, ouch, ouch.
Two things have helped me work through this guilt.
One, I discovered that I do enjoy service in my own limited way. I love front-desk jobs, I love setting up devices with exactly what you need, I've even managed to enjoy critiquing a dom's writing as long as I'm not forced to argue back and am allowed to say "sir" a lot. It's nice to be useful.
I'm still not sure how much of this is coming from my vanilla side versus kink. But I'm not one of those who believe that never the twain shall meet, so that's okay. At least for my conscience.
What helped even more, though, was the second discovery: I'm not the only one who wants what I want. Service subs are like that too. In fact, it can be terribly frustrating for them to get a dom who plays my kind of games, according to Raven Kaldera's slave Joshua Tenpenny:
In a relationship with a control-oriented dominant, there are often extended periods of "training", with either no end goal, or an impossibly high end goal. This is very frustrating to a service-oriented sub, whose self-esteem is often strongly based in their ability to meet (or even exceed) their dominant's goals. By their perception, they are constantly in a state of failure. Continual micromanagement and correction, rather than being comfortable, can become an ongoing reminder of this. Desperation for praise and success can lead to unhealthy (and perhaps self-harming) behavior.
Constant micromanagement and correction? No endpoint? Sign me up for this!
But apparently this is so bad for service subs that david stein has gone so far as to call it unethical (How to Do the Right Kinky Thing, p. 3):
"Training" that continues indefinitely at the whim of the trainer tends to be exploitative. – david stein
He's right, of course. If the sub doesn't know that the dom is putting scare quotes around "training", any rational thought process will terminate in frustration or despair.
But some of us irrational types like being constantly pushed further. We actually live for that state of desperation, we get a kick out of providing entertainment through our suffering. Or, at the very least, the boot on our necks.
Control, not service. The journey, not the destination.
I'm grateful to Raven Kaldera and Joshua Tenpenny for putting a name to this dynamic. I am surprised that they don't draw a parallel between this typology of subs and their rather similar typology of doms.
When they talk about what subs want, it's control versus service. When they talk about different styles of dominance, it's 'parental' versus 'celebrity' dominance (with the caveat that most doms do some mixture of the two).
No, they're not talking about age play. To explain what they mean, they describe going to a restaurant.
A very 'parental' dom handles all the money, orders for the sub, makes them finish everything on the plate, and drives them to the restaurant and back.
A hardcore 'celebrity' dom, on the other hand, expects the sub to chauffeur them, know how to order for both of them, handle payment and figure out the tip, and they both leave when the dom feels like it regardless of whether the sub is done.
Yikes. That's scary, this celebrity business. All that responsibility, all that potential to get it wrong. I'd be happy to have all that terror used against me, but somehow I think that's not the point. As with service, the idea is that the focus should be on the dom's needs and wants.
And that makes sense to me, too. I would need some of that in a long-term relationship, or I'd feel like dead weight.
But this kind of thing only started to sound manageable to me after Eric Pride's class on perfecting service within a Master/slave household. He said that experienced slaves become very good at questioning you about exactly how you want a task done. It's like they're reading off a list of questions in their heads.
Now that I can aspire to. But I'll take training – or "training" – over initiative any day. Patient, sadistic, quixotic, anything. I know the real work has to get done some time, but I'm still selfish enough to want to be played with.
And, thank heavens, most doms do have a little bit of playtime in them.