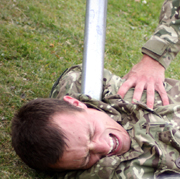 As you may remember, I have no shame about being female and therefore in a position of weakness. Nor do I feel particularly bad about being submissive and therefore wanting some such predicaments.
But my masochism? Let's not talk about it.
No. Let's talk about it.
Masochism has a bad name. To the observer – even your own memory – it can seem so obviously sick, a perversion of the mind. And I think this is because it looks like an unnatural appetite for self-destruction. It conjures nightmare images of a hand reaching to strangle its own throat – or worse.
That's not what it feels like.
It's not really a hunger. It's a path. And it starts and ends in the same moonlit places as any story of electric intimacy. It's just that instead of a companion, you have a guide.
It begins with fascination. The warm laughter that flips your heart over, the cool strength you can't look away from. The brushing touch that makes your heart stand still and everything else inside you rush around in hyperdrive. You're open to everything this sudden stranger can give you, make you. Enjoy you.
And the scene changes. A lightness of being once you're secured. A wash of surrender through your vitals. Pain shocks you with pleasure, leaving you mesmerised.
Others have said it before me. Turning My Head Off is the title of one submissive's blog. And there is a bestselling vanilla novel, The Time Traveler's Wife, which mentions being taken several steps down the evolutionary ladder.
In this way, you come to a place with no will and no self, just awareness. Sometimes it blots out everything else, and that's when we call it subspace. But usually you still have one foot in this world. It makes you want nothing and everything – anything your partner wants – urgently, mindlessly, wholly.
And if you have experienced the act of love as communion, I think you have been to where our path ends. We splash and dive in the waterfall that you stand and admire, but that's all the difference.
So yes, it is about self-annihilation. So is Buddhist meditation, or Christian prayer, or Sufi mysticism. We have a different way to let go of the self, helped by those others who will catch us and fill the void. Thank God they want to do it.
When shame overtakes me, as it always does, I ask myself the only question that matters: Is this wrong? Forget who I think I'm supposed to be. If it is wrong to make a gift of myself and my feelings, then I should be ashamed. Everything else is pride – or fear – and I have too much of both.
Maybe I'm lucky to be what I am. It shines a torch on who I should be.