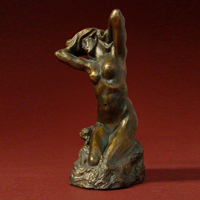 It is a cliché that the sub has all the "real" power. And I really, really hope it's not true.
Yes, I can stop it any minute and yes, hotel security is a lot more likely to help me than him. (Apologies for non-inclusive language; I'm writing about my personal experience.) But good grief, when someone is looming over me with a paddle and an enigmatic smile, the last thing I want to be thinking is, "Nice job, minion!"
What I want is to please him. That's why they call it power exchange. Because power is the ability to get what you want. And it's true that he's getting his wants met in spectacularly obvious ways. But that's exactly what I want too! To make him want to hurt this creature shivering with desire, to make him laugh at my sobs, to make me crawl back for more again and again.
That's power flowing in both directions, however deceiving appearances may be, because I am so getting what I want.
I think we've started losing sight of this kind of submissive power, and it's a damn shame. When Venus In Furs was written in 1870 by the man who gave his name to masochism, it was still a new and startling idea that someone might want – desperately – to give up the power to satisfy their wants. And so the author anticipated that reaction by turning the paradox into the central theme of the whole book. Nearly a century later, The Story Of O was published, and that author too stated that her novel was about a woman not just wanting sexual slavery, but manipulating her masters into giving her exactly what she wanted.
That assertion confused the heck out of me and my reading group. We combed the book and all we saw was O being kidnapped and coerced and, at best, bullied. They even tell her, "If you don't obey immediately, they'll force you." Ooh – I mean ick.
But you can't ignore what an author says about her own book. If she says O was manipulating her masters, we're missing something.
I have two theories about our divergent perceptions.
(1) By definition, a slave used to be someone held against their will. The mere fact that a slave could be getting exactly what she wanted was therefore enough to make people question who was really in charge – even without begging or charming or bargaining.
(2) Maybe Pauline Réage was right. Maybe those of us down here are doing something incredibly powerful by just obeying and saying "I love you."
I have been forced to take this hypothesis seriously because my doms are so good at giving me what I want. After the second newbie had had his way with me, I decided it was past a coincidence. Yes, I'm picky, but I hit on them because they're good people with minds and hearts, not because I think they're good at doing something I haven't even allowed them to try yet. And yes we negotiate, and I try my very best to hand over the user manual, and yes, there are spectacular misses – but there are also all these uncanny little things they seem to figure out by themselves.
But, you know … I am telling them.
When I fall silent. When I wait for permission. When I relax into a touch – or not.
When I look stricken and obey anyway, pupils dilated, my whole body ready to jump at the next order.
When trembling gives way to panic, when my throat does wild things without help from my mouth.
When I start biting off noises and grimacing. When I stop making any sound at all and my eye contact becomes pointedly non-committal.
I'm telling them a lot. And we're not even counting all my flavours of thank you.
Is this manipulation? With all respect to Pauline Réage, that's not what I would call it. Far from choreographing it for maximum effectiveness, I'm a bemused observer of my own reactions. I think I am getting better at it over time, but it doesn't feel like something I'm learning to do. It feels like learning not to do things. Not to hide myself, not to run away, not to fight.
Is it seduction? Well, post-mortem analysis suggests that it's certainly, um, effective. But I can tell you, it feels a lot more like the seduction is being done to me than the other way round.
Because I am getting what I want. But if all is going well, I am definitely not in control. All the specifics are, however temporarily, in someone else's hands.
It reminds me of advice I once read about working animals: A good specimen will teach you how to train it. Just watch what it does naturally. All you have to do is connect those responses to your own will.
A German Shepherd wants to protect. A husky wants to pull. A labrador wants to fetch.
I want your pleasure to come from my suffering.
And when I'm getting what I want … you can consider us both drunk on power.
---