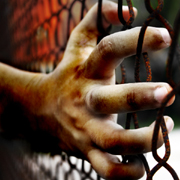 Once upon a time my dom was nursing me through some truly horrific cramps.
I was not very lucid. A particularly vicious cramp took me by surprise, and I found myself whimpering our safeword.
I will never forget the look on his face.
To cheer us both up, he told me that I had a belly god, a dark and hungry one. I loved that, because one of my favourite lines of poetry was "The body is a temple of pain." And unfortunately for this masochist, whatever lived in my temple had developed a real taste for smiting.
I looked for that poem fondly when I started this blog. But either my memory played me false, or we have better translations now. Please brace yourself. For me, at least, this is kink-proof material.
Tortures

Nothing has changed.
The body is a reservoir of pain;
it has to eat and breathe the air, and sleep;
it has thin skin and the blood is just beneath it;
it has a good supply of teeth and fingernails;
its bones can be broken; its joints can be stretched.
In tortures, all of this is considered.

Nothing has changed.
The body still trembles as it trembled
before Rome was founded and after,
in the twentieth century before and after Christ.
Tortures are just what they were, only the earth has shrunk
and whatever goes on sounds as if it's just a room away.

Nothing has changed.
Except there are more people,
and new offenses have sprung up beside the old ones –
real, make-believe, short-lived and nonexistent.
But the cry with which the body answers for them
was, is, and will be a cry of innocence
in keeping with the age-old scale and pitch.

Nothing has changed.
Except perhaps the manners, ceremonies, dances.
The gesture of the hands shielding the head
has nonetheless remained the same.
The body writhes, jerks and tugs,
falls to the ground when shoved, pulls up its knees,
bruises, swells, drools and bleeds.

Nothing has changed.
Except the run of the rivers,
the shape of forests, shores, deserts, and glaciers.
The little soul roams among those landscapes,
disappears, returns, draws near, moves away,
evasive and a stranger to itself,
now sure, now uncertain of its own existence,
whereas the body is and is and is
and has nowhere to go.
Shudder. I know I writhe and fall and bruise, and I love it. But not this. If it works for you, that's great, but Wisława Szymborska has succeeded in blacking out my kink-coloured glasses.
So I scratched that poem from my list of blog ideas. But recently I was reminded of it while tweeting angrily about my chronic pain.
The pain came back today, sharp and hard with every step. And I found myself shouting at it! "Ow! My tailbone talks to me in tongues!"
— Yingtai (@yingt_) June 25, 2014
To be honest, I was a lot more sanguinary than that.
"Ow! Ow! OW! What do you think? My bloody tailbone is talking to me in bloody tongues! My wrists got tired of zapping me with lightning and they called in the bloody reinforcements! OW!"
Why was this tweet-worthy news? I'll tell you.
You know what I would have done six months ago? Cried my eyes out – if I was lucky. Usually I just felt awful and didn't know why. — Yingtai (@yingt_) June 25, 2014
Because in order to cry, you have to know that this should not be happening to you. That you do not deserve this pain. And I didn't know.

— Yingtai (@yingt_) June 25, 2014
You know what this progression from depression to anger looks like to me? Abuse survivor. My body was hurting me and I couldn't leave it! — Yingtai (@yingt_) June 25, 2014
I am SO GRATEFUL I'm finally in good enough shape to be angry with the pain. Go and die, you battering bastard! No more excuses for you!
— Yingtai (@yingt_) June 25, 2014
Yes, my body likes to non-consensually hurt me. It's a bitch bastard. And I have nowhere to go, like Wisława Szymborska's poem says. It really is unnervingly like an abusive relationship as described by the great feminist writer Margaret Atwood:
you fit into me

you fit into me
like a hook into an eye

a fish hook
an open eye
Unfortunately, I know the kind of relationship she's talking about. Except it was mutual in my case. My wonderful cramp-nursing belly-god-quipping partner and I broke up because we decided to stop being bad for each other. Pain had become the order of things. It filled every space, but we couldn't imagine life without each other, so surely it was love, surely it had to be right?
It took a ridiculously long time for us to even see that we could leave the pain behind. When your boots are gone, that's when you really need to walk.
Reader, I left him. We stopped hurting each other.
I'm so glad I'm getting to that point with my body, too.