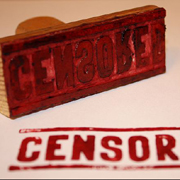 I have moved my site to HostGator due to the problems described below. Please excuse the mess on this new site.
Someone is trying to get me removed from WordPress.com!
Shall I lie and say that I am all agog to find out if they succeed in getting me censored? To be honest, it seems very unlikely. There are so many BDSM blogs on WordPress.com, and I reported my own blog as mature content on the second day of its existence.
Here is my response to the complaint:
I'm not a him, I'm a her.

I've removed two likes and two links. They were short-lived and I don't think there aren't any more, but let me know if you find any.

And there has clearly been some misunderstanding, because my blog has never been removed, so you have never told me how to reinstate it. You did tell me how to report my own blog as mature content. That was the very first question I asked in this forum before I had been on WordPress for a week.

As such, I am very sorry to have upset you, but I think it is clear why I thought you knew. My tagline has always included the word BDSM. There are a lot of us on WordPress.com.

I have been adding a warning to my Blogging 201 posts, and in future I will add it to support requests too. I hope WordPress will make it possible for me to flag my icon or something so that future misunderstandings like this will not occur.

Although that is much less urgent than creating an Enter/Exit screen before entering the blog itself, which Blogger and LiveJournal already have.
And all of this came out of an innocent bug report. You can view the conversation here. [Edit: One reason she is alarmed is that she previously told me how to do something that mature content bloggers apparently are not allowed to do.]
In a completely separate thread, my Blogging 201 classmates have been incredibly supportive. This is just a sample:
aimingtobegreen: Would anyone be interested in joining a FB page for the April 2014 class? [snip]

Me: [snip] But would you want a BDSM blogger to be part of this?

KleesButterfly: [snip] And #xiao yingtai : everybody who participated in this class should be welcome!

aimingtobegreen: I agree, anyone should be welcome.
Look, it's a welcome mat!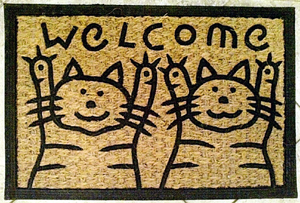 I told them about the removal request, and aimingtobegreen said, "I think as long as you warn people clearly there will be adult content then there shouldn't be a problem." Sigh. I wish that were true, but the complainer knew that part from Day One. I guess I need to say it's BDSM and hope that the tiny vanilla kids who might be freaked out won't be curious enough to Google it.
Somehow that doesn't sound like the ideal solution, does it.
Anyone else have stories of censorship or welcome to share?