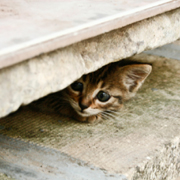 The morning after I signed up at CollarMe.com, I happened to start daydreaming about one of my favourite books, and a bolt of arousal shot through me.
Normally this would not have been such a surprise, but I had believed I was dead between the legs due to exhaustion. Evidently not. I tried thinking about my own life again and was able to confirm my new hypothesis. CollarMe is the best 'off' switch for my submissiveness ever.
The stories had not prepared me. Yes, I had fully expected to be told "Slave, here is your new master, now masturbate like a slut" after saying no thanks. That's what happened to me on Bondage.com ten years ago. Frankly, the FetLife groups Return to Sender and Profile Pitfalls have no idea what they missed. Kinky men really are more clued-in now.
But no, the first problem was the sheer volume. I took maybe half an hour to fill out my profile, then noticed that the Who's Viewing Me? button was highlighted. Click. I nearly jumped out of my skin. It just kept scrolling down. I hadn't even known the profile had gone live.
In three hours I received about 100 messages. Among them were three plaintive one-liners asking why I hadn't replied yet, one of which alluded to "disrespect". There were obscene messages, one-word messages, and un-prefaced requests for friendship or chats. I am so grateful to all those guys for making my decision really straightforward. I want to give them efficiency awards or something, but they would probably take it the wrong way.
Over the next 24 hours there also appeared two short messages that simply made me happy. Just a little, but uncomplicatedly happy. They were very much like the comments I've received from other women about this blog. They made me think "This person might help me think new thoughts." I don't know if this is what other women want, but I'm grateful. Thank you, gentlemen.
It was really hard to figure out why the other messages made me flee the site in 24 hours flat. But I think I've got it now.
Have you ever had crowds of nice strangers hovering around you, giving you trust and hope and their future in excessive quantities? I have. Knowing that I could hurt their feelings with a word, not knowing how to help them show their full potential, mustering all my courtesy, compassion and maturity. Check, check, check. Even the flashers!
CollarMe.com feels just like teaching preschool again.
And nobody is to blame, really. Quite a few gentlemen clearly worried about not sounding dominant enough, but that's not the solution, because my second tier of efficiency awards went to boastfulness and one-true-way-ism (also piggy play, bestiality and yellow fever). In most cases, though, people were simply expressing their attraction, bravely and courteously, and in their shoes I would have written exactly the same kind of message. The good guys weren't behaving like pre-schoolers; even the efficiency award-winners were probably doing their best. It was just the power dynamic of scarcity and demand. Like I said, not their fault.
But it's not my fault either that I'm utterly desexed by that sense of power and responsibility. Maybe it's more tolerable for dommes? Although this domme's hilariously similar Eureka! moment would suggest otherwise.
So I have taken the advice of one insightful respondent, who thought my blog sounded like a much better way to get to know like-minded people than CollarMe. Besides, I care much more what people think about the topics here than the profile questionnaire. Who cares if I like show tunes? Surely headphones and obedience and indulgence are a thing?
I am left with a few questions.
1. What on earth was I supposed to do with the polite one-liners that didn't introduce any topic of conversation? I tried replying to one of them and a topic … just … never … appeared. Excruciating.
2. Why do so many men constantly stress our mutual genuinity, sincerity and seriousness? Could they really believe that women who don't want exactly what they want are doing it wrong? Brrrr. I hope not. Because it's a terrifyingly widespread meme.
Edit: I asked some doms. Apparently I was being thanked for not being a scammer asking for money. Phew!
3. Does negging really work on other submissives? Maybe it works on women who like a challenge? Because it paralyses me. Back on Bondage.com someone asked me, "You want to do this before having vanilla sex? Don't tell me it's because you're Asian, I've had Asian girlfriends." That guy still hasn't received an answer, because I was too upset for years. Thank heavens someone finally told me, "That's like telling gay people they should try straight sex first!" I guess it's good that my recovery time has shrunk from years to months to days. But I imagine I would have been more fun to play with before I developed some armour.
So I can't recommend CollarMe. Yes, you'll meet lots of people, it will be flattering, and the website is not really hard to use (even though I never could get my audio greeting to record). But it's not worth what it does to abject submission.