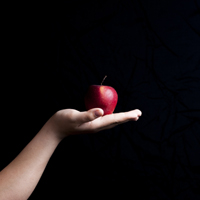 Last week, guest blogger Cava Supernova asked, provocatively, "Is racism sexy?"
She told us the story of an early kink encounter in which an awesome black man begged her to call him her nigger and her sex slave boy.
This out-of-the-blue request floored poor Cava and she asked us to help her figure it out.
Um. I'm an emotional masochist. Just like that guy. So I didn't even understand the question until commenters started chiming in, "Let me introduce you to the mysterious workings of degradation kink!"
Valery North, like other insightful people in my life, argued that it's about facing your demons. It's a safe place to experience the unspeakable. It's spitting in the face of trauma. What doesn't kill you makes you stronger.
Really? Huh. I'm glad it works like that for you. But not me.
Let's take one of my fondest kink memories, the time when I volunteered to demo for Eric Pride's interrogation class. His topic of choice: my first sexual encounter. Therapeutic? Hmm.
Maybe having me spread my legs, touch myself and promptly get laughed at by a large audience was not the best way to help me put sexual shame behind me forever?
And hell, I wouldn't want to. Because, like I said, I am an emotional masochist.
I'm not quite sure if it's the same thing as a humiliation kink. Because I was stunned to learn that there are people who get a kick out of smiling and calmly staring back when you call them horrible names and rip off their clothes. This is called fun?
See, for me, it's about the emotions. Not anger. But fear and humiliation, yes yes yes. And the absolute best is shame. I go down so fast. Instant mental takeover.
Sexual shame is good stuff. But the most unforgettable, wonderful thing about that interrogation scene wasn't recounting my torrid past. It was failure. Specifically, the diabolical instruction to keep my eyes on a ring in the distance.
At the time I thought my interrogator was being incredibly merciful, because no eye contact. Mercy, hah! Turns out I am hardwired to drop my eyes when talking about sex. Failure was guaranteed.
I must have done it at least fifty times in ten minutes. And every single time was devastating. Oh God, that implacable voice behind me had granted me this mercy, this undeserved kindness, and what had I done with it?
My oh-so-merciful interrogator never called me on it. But every time I jerked my eyes back to that ring, I felt his fist around my heart, pushing me further down the rabbithole. Thank you, I'm sorry, please punish me, please don't hurt me, oh God please, oh God no.
You get the idea. Submissive nirvana, at least my version.
And this is my theory of how it works. Take one emotional masochist. How do you push her down where she wants to be? Look at what makes her tick. That's where it will really hurt. That's how to whack the emotional masochism.
What makes me tick? My sense of right and wrong. In vanilla life I am a judgemental, perfectionist pain-in-the-everything. The absolute worst feeling on earth for me is letting people down. And the nuns didn't need to train me, my grandma got to me first.
So that's how you get to me. Shame, guilt, failure. Please sir, may I have some more?
Obviously there are limits. I only get to have fun with the emotional masochism when I can let go. And I can only let go when I trust my tormentor. As I explained to my worried brother, "You know how you like screaming on rollercoasters? Well, I go silent because I don't trust the damn things. I'm really, really choosy about who to trust."
My poor brother was so relieved to hear that. He's not the only one. I'm awfully glad my subconscious is so choosy.
Not, I hasten to add, because it's logical. Remember, this is the same subconscious that went into agonies when I was ordered to spread my legs, which were then encased in long, loose and totally opaque pants. Sexual shame a specialty. I love it.
Am I facing my demons and getting stronger? Well, you could say that, because next time I'll be able to handle a little more. But that's how caning works too, and nobody tells my friends they're subconsciously trying to eliminate their pain responses. So it seems a little strange to me that everyone assumes emotional masochism is about DIY therapy.
Except, of course, Cava Supernova! You got it right.
And you must have looked trustworthy enough that your lovely young man thought he could let go and enjoy it. Good for you!
I'm curious, will you bite the apple next time?