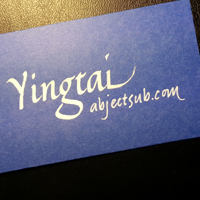 I'm going to do a piece of calligraphy for charity.
You see, I'm going to TES Fest next weekend. They're having a silent auction to raise funds for the Leather Heart Foundation and NCSF. Both great causes!
But I'm not sure what I should write. Please help me decide?
1. Beatings quote
"The beatings will continue until morale improves."
– source unknown
2. Knees quote
"On my knees I think clearer." – U2
A design that says "Master" when right way up, but "slave" when upside-down. Here's a rough draft.
Which one is your favourite?
Please let me know soon! I've only got a few days to make this happen.