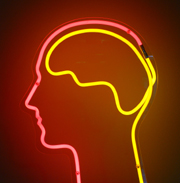 Did you know that Humiliation Studies is a thing? I didn't!
Sadly, these researchers have no interest in helping us to scene better. They're in it because they consider humiliation to be at the heart of all kinds of social turmoil and global conflict.
The underlying assumption, of course, is that humiliation is a particularly intense emotion. And a couple of scientists decided to test this question empirically using an EEG!
Participants read short one or two sentence stories describing an emotionally laden event. The content of each story was either humiliating ("You see your internet-date at the arranged location. Your date takes one look at you, turns around and quickly walks away."), angering ("Your roommate has organized a party while you were away for the weekend. When you return the apartment is a mess, and all your wine glasses are broken."), or happy ("You find out that the person that you have had a crush on for a while likes you too.").
The findings were that humiliation is indeed more intense than happiness or anger (Experiment 1 above) or shame (Experiment 2). At least, according to the wires gummed to the participants' heads.
As always with academic research, there were a bunch of caveats. In this case, I am convinced. (Though the editors need help with hyphens and angar.)
But I'm struck by their definition of emotional intensity as amount of brain activity. It reminds me of another academic finding from the delightfully titled book The Man Who Lied to His Laptop, that negative emotions use up more cognitive capacity than positive emotions. Maybe you've noticed how difficult it is to remember what events led up to particularly bad fights? And it makes sense! Negative emotions must be the brain's way of telling you it doesn't like to work hard.
It also reminds me of something I have said before, that masochism is about the liberating experience of losing your ability to think. And it sounds like humiliation does that particularly well, by driving everything else out of your head. No wonder I'm an emotional masochist.
I'm intrigued that humiliation is more powerful than shame. Excuse me, Otten and Jonas would probably prefer me to say that it "evokes more longlasting cortical activation". I wonder if that could be culturally specific? But it does explain something. If humiliation trumps shame, then no wonder punishment is effective in washing away guilt.
Thanks to the wonderful Augusta Columbine for alerting me to this research via the Wired report!